Mumbai has a thriving population of more than 18 million people and is known as the "jewel in India's crown". In such a crowded and bustling city, you might find it very difficult to figure out which places to visit or what specialties of Mumbai you must experience during your trip. Mumbai is a city of different religions, cuisines, customs, businesses, and Bollywood. It might be difficult to explore every possible thing in the city in one go. So, here is a list of the top 10 best things you can explore in Mumbai and nearby while visiting the city.
1. Marine Drive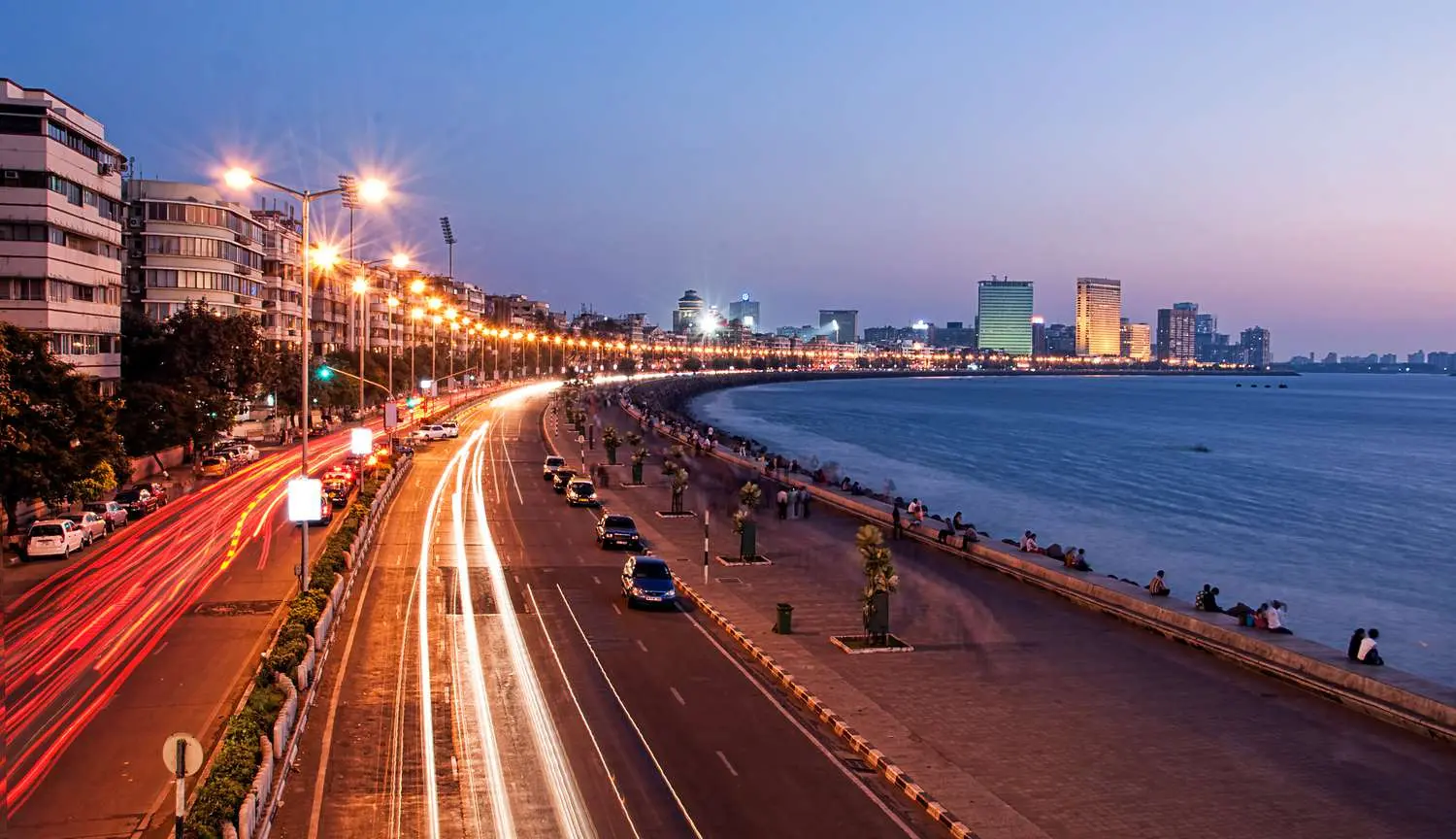 One of the best things to do in South Mumbai, whether you're traveling alone or with a party, is to unwind at Marine Drive. It's a classic Mumbai experience. You can take a leisurely stroll along the walkways along the South Mumbai coast while taking in the evening breeze or the spectacular sunset views.
Marine Drive is built on reclaimed land with a west-southwest orientation. Marine Drive is also known as the Queen's Necklace because the street lights resemble a string of pearls in a necklace when viewed from an elevated point anywhere along the drive at night.
2. Dhobighat, Slum & Dabbawala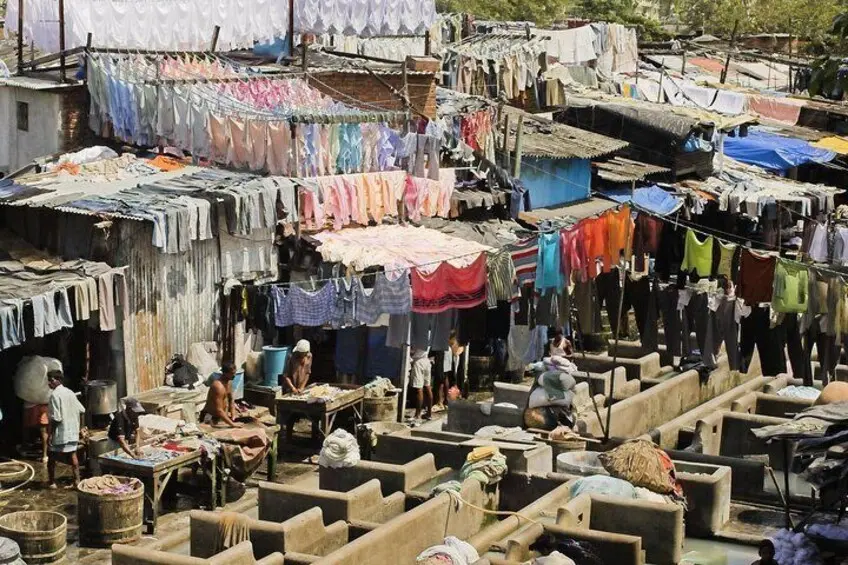 You must discover more about Mumbai's laundry men, known as Dhobi Ghat, and lunch box carriers, known as Dhabbawala, during your city tour of Mumbai. You should also visit Dharavi, one of the largest slums in Asia.
A dhobi is a traditional laundromat employee who will pick up dirty clothes, wash them, and deliver them back to the door freshly pressed. Ghats are the name for the laundry facilities where clothing is washed.
Take a 2-hour Slum Tour to finish. You may observe pottery being manufactured in the Khumbarwada neighborhood, which is where the Gujarati potter's community calls home.
3. Mumbai Street Food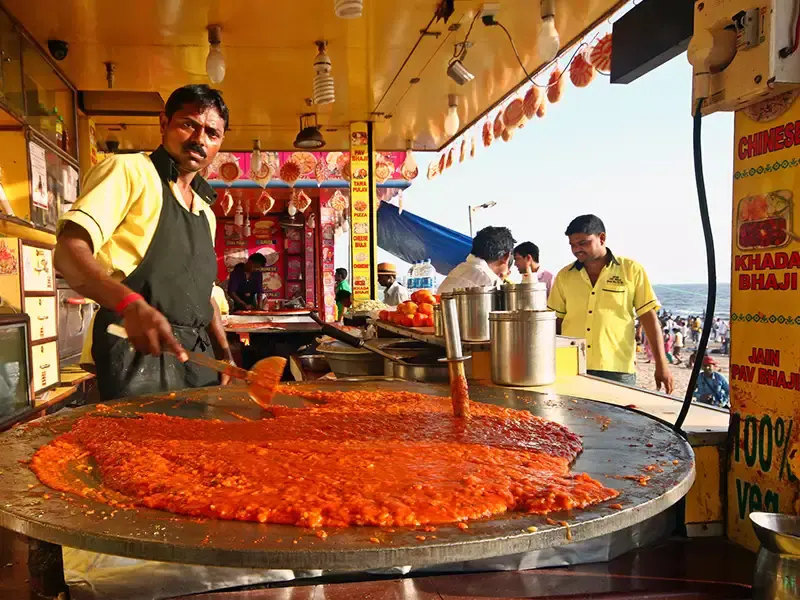 Mumbai is a paradise for you if you are passionate about food. This incredible experience is intended to demonstrate why Mumbai has long been regarded as the place to go for delectable cuisine, exotic spices, and much more. Some of the famous delicacies of Mumbai that you must try are Pav Bhaji, Vada Pav, Kebabs and Rools, Falooda, Pani Puri, Mumbai Sandwiches, etc.
4. Elephanta Cave Tour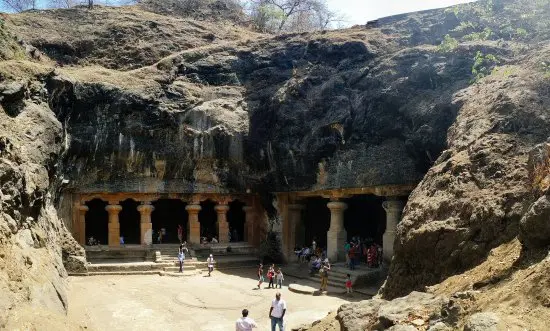 Vising Elephanta Caves, one of the city's three UNESCO World Heritage Sites in Mumbai, is a must during your Mumbai trip. The Elephanta Caves are a group of temples that honor Hindu and Buddhist motifs and ideas. They were carved over many generations. During your one-day excursion to the Elephanta Caves, you will see a spectacular display of centuries-old rock-cut architecture. The three-faced sculpture of Lord Shiva in Cave 1, the pillars at the cave entrances, and a collection of idols are some of the important attractions that history experts will appreciate uncovering.
5. Haji Ali Dargah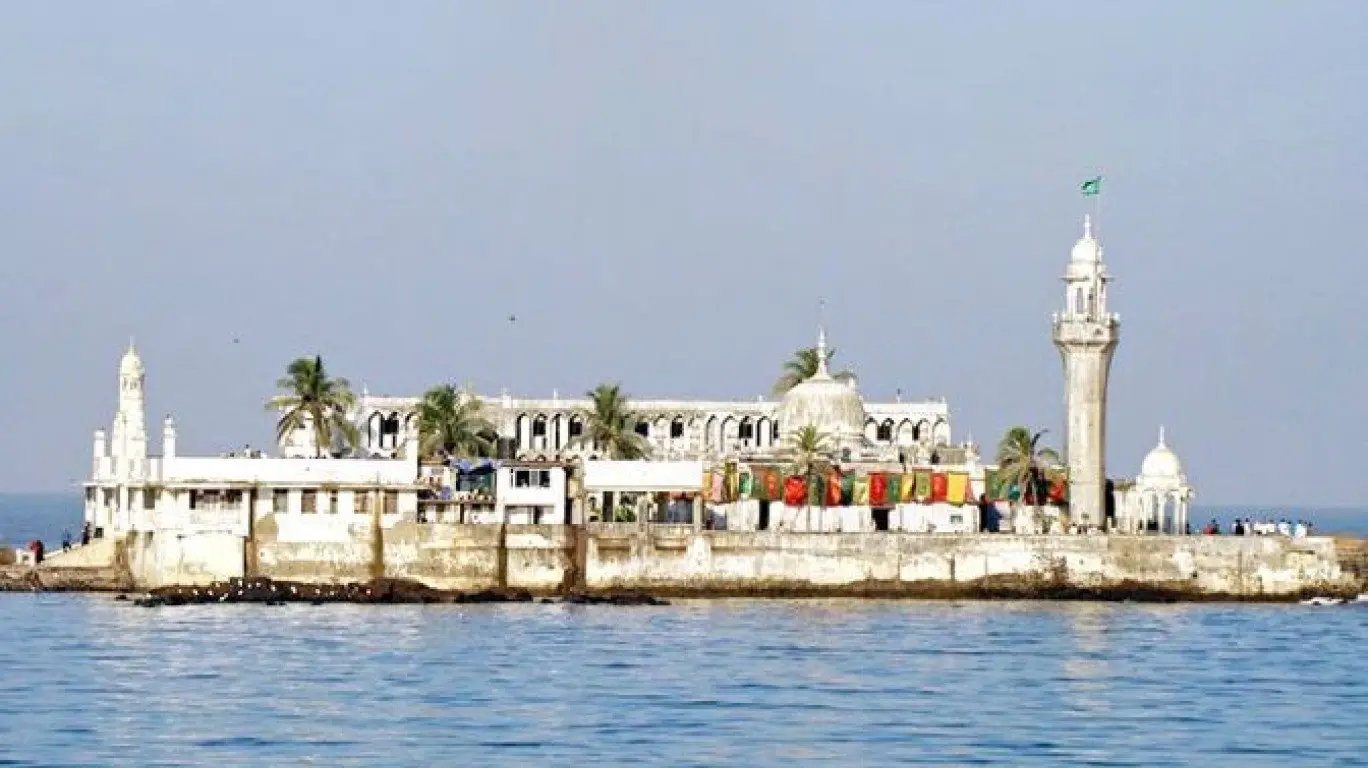 The Haji Ali Dargah, which was built in the middle of the Arabian Sea, is a must-see attraction in the city. Every day, thousands of visitors of all faiths flock to the mosque and dargah, which are located just a short distance off the coast of Worli. This 600-year-old landmark's architectural highlights include the tall minaret and grand arched gateway.
6. Shopping at Colaba Causeway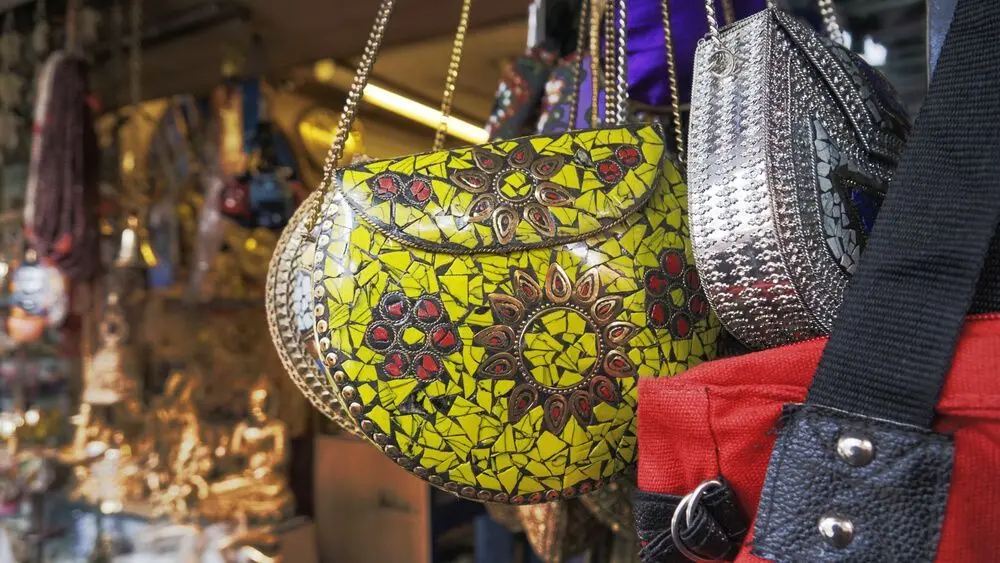 Shopping at Colaba Causeway, one of Mumbai's most famous shopping malls, is one of the best weekend activities in Mumbai. It also has several cafés and eateries where you can take a break. The Colaba Market is best known for its street-side clothing stores, where you can get the latest fashion at bargain prices.
To begin with, Colaba Causeway is famous for its accessories, junk, and boho jewelry, as well as fashionable clothing. This is Mumbai's best destination for ethnic, boho, junk, and silver accessories. The designs and patterns in this market are truly one-of-a-kind.
However, this market does not place restrictions on such items. Instead, this market is more glamorous and charming. It primarily caters to shopaholic souls who are always looking for a new trend and style. Apart from street vendors, there are a few designer stores, branded shops, and restaurants in this area.
7. Enjoy the Sunset at Bandra Fort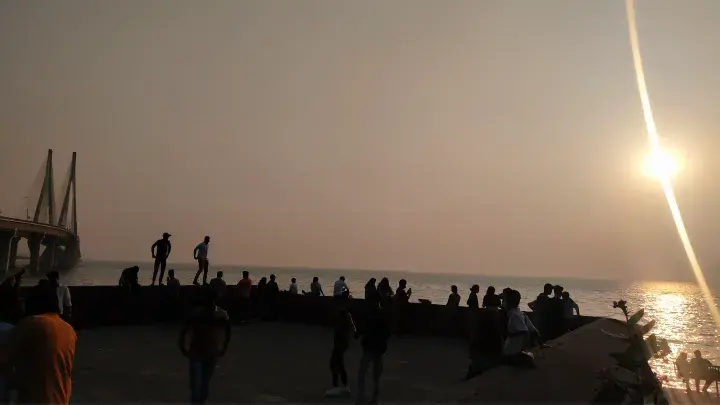 Nothing beats the sunset from Bandra Fort in Mumbai. The fort is steeped in history, and the stony remains of its old ramparts have hidden many stories from the past. Watching a sunset here easily ranks among the best things to do in Mumbai with friends, with stunning views of the ocean adding to the experience.
8. Experience Fun and Excitement at Imagicaa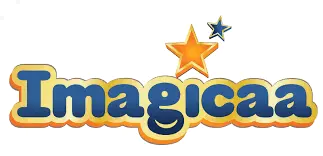 Imagine, India's largest theme park, is both a theme park and a water park that adheres to international standards. It is one of the day trips from Mumbai. While the first half of the day can be spent at the theme park, riding rides until you're dizzy from excitement, the second half of the day can be spent at the water park, most likely relaxing on the lazy river ride. You can also visit the park's restaurants, which serve delectable cuisine.
9. Visit Siddhivinayak Temple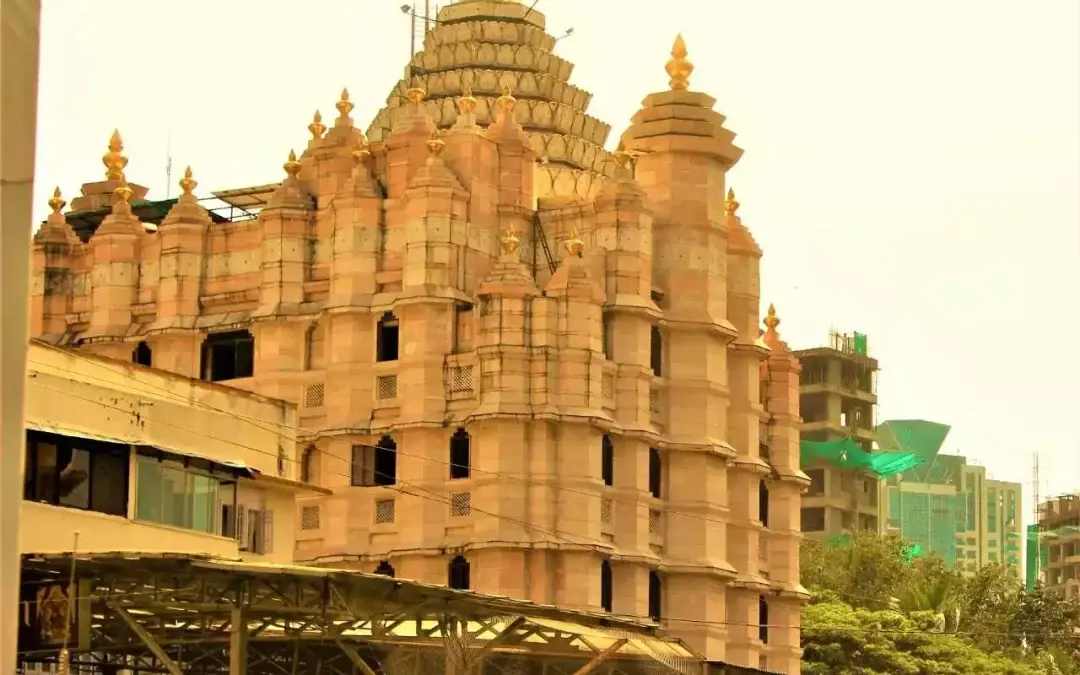 The Siddhivinayak Temple, dedicated to Lord Ganesh, is one of the city's most important religious sites. Even from a distance, the ornate building is a sight to behold. The gold-plated inner roof of the sanctum and the main idol of Ganesha are among the highlights here.
10. Drive through Bandra-Worli Sea Link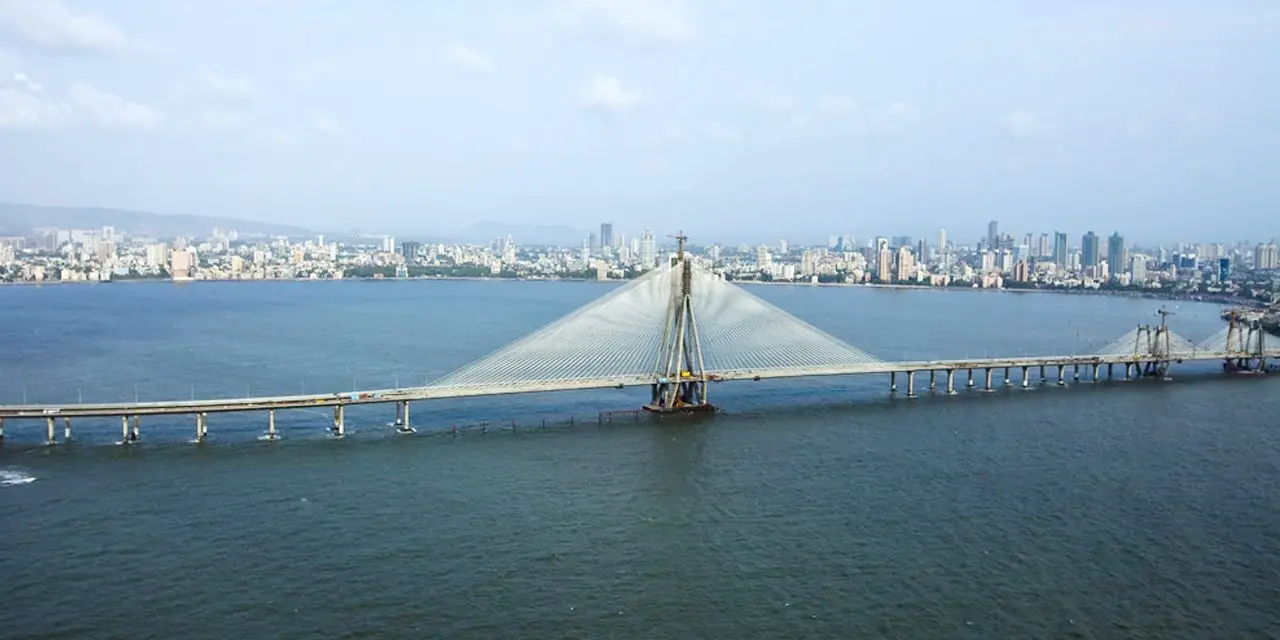 As you drive through the Bandra-Worli sea link, you'll get a taste of San Francisco. The Rajiv Gandhi Sea Link, named after India's former Prime Minister, is another name for this bridge. It gets you from the city's western suburbs to South Mumbai in less than 15 minutes, whereas the normal route takes an hour or more. This bridge does not allow two-wheelers or auto-rickshaws.
Mumbai is a city full of surprises in its nooks and corners. Apart from the above-mentioned places and activities, you have a lot of things to explore over there, including Madh Island, an Escape game room, paintball adventure, hiking to Pandavkada falls, a cycling tour in South Mumbai, Scuba diving, river rafting, Vasai fort, Parsi cafes of Mumbai and many more.