Some plant lovers always stay connected with their plants. Plants can add new colors, freshness to your home and life as well. But when it comes to relocation or shifting to a new city you can't just let those green beauty stay alone. some times it became a headache to move with them as they are very delicate. we are going to share with you some useful tips, on 'how you can move hassle-free with your plants anywhere.
Also Read: Best Packers And Movers in Agra
Choose Your Removal Firm Wisely
Choose your Packers & Movers company wisely. As your plants are delicate and need a lot of care, some companies don't want to take risks with plants. So make sure your company has no problem with it. You should always discuss properly before moving your plants with your packers & movers company. You should inform every required detail with them like, the number and size of your plants, delicacy or fragility, and check if they can move it.
These initial conversations will help make sure your movers are well prepared and they won't let you down.
Don't forget that professional moving companies will have a lot of experience dealing with plants, so you should ask them any questions you might have. They'll be able to comfort you about your plants' safe shipping and make sure you're happy with the procedure.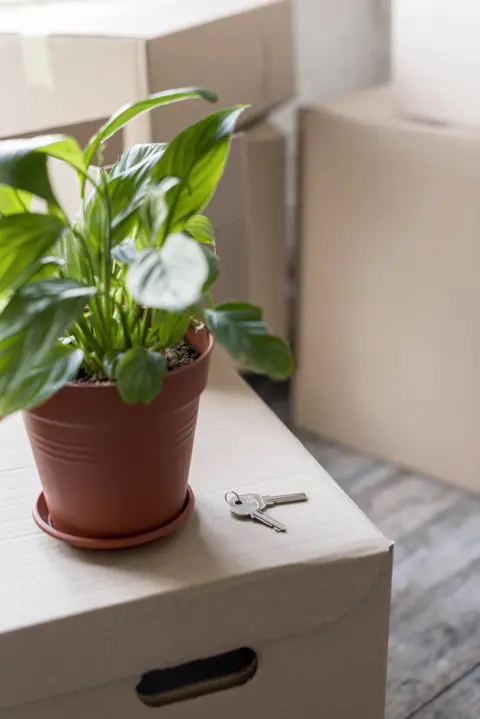 Also Read: How To Calculate Packers And Movers Charges?
Prepare Your Plants Earlier
Plants' size and weight can make them very difficult to relocate. Instead of using heavy, clay, metallic pots, it would be better to Repot your plants into lightweight plastic plant pots temporarily will make it easier to move the plant and avoid causing damage to them. If new pots are not available, you could always try using garden bags. These are very cheap, strong, and easily available in your local market or online i.e, they're less likely to get broken in transit, and you're less likely to end up with a mess of soil. They'll also take up less space in the moving truck.
Cover the soils with plastic wraps or with cardboard .so that the soil won't get spillover and create a mess later . But before wrapping with polythene don't forget to water the plants. In the lead-up to moving day, make sure your plants are adequately hydrated. Irrespective of any seasons, your plants still need water to survive.
Give them a good haircut; yes you heard right. If you are a plant lover you know it very well that like us plants need trimming every 5 to 6 months, it will help them to grow new branches and give them rejuvenation .so don't worry about the growth, trim the extended branches, dead leaves, dried flowers. Following these steps, it will be easy to transfer them to their new home with very less or no damage.
If you are afraid of trimming branches, you can bind the large branches altogether. You can protect them further by placing some hessian on top. If you're bothered about any particularly tall plants, make sure you figure out this with your movers ahead of the move.
Pests and parasites can attack your plants without you realizing it. There could be different bugs and fungus hidden away. During transportation as all your plants are going to be placed together, the transmission chances are also higher, which you won't want to pass onto your other plants. Give each plant a thorough inspection and execute any pests accordingly.
Also Read: Do I Sell My Goods, Or Should It Be Moved With Me?
The Final Day Preparations
Pack Them Up Safely:
The unchallenging way to move plants without disturbing them is just using the moving boxes. Some moving boxes come with handles. It will be easy to transport, and the boxes will provide enough protection to the base of your plants, stopping them from getting hurt during the moving process.
Labeling :
Labeling is one of the best and smart ideas during transportation. Like your crockery or decorative items, labeling your plant boxes with 'fragile' or 'live plants' stickers is a smart decision. Not only for your movers but also for you to place them in the right place or room after reaching the location.
You also can use separate labelings for the small plants, flower plants, and big plants, as the mover company can give the required attention to each of them.
Also Read: What Is The Best Way To Label A Moving Box?
Extra Protection For Long-Distance:
To provide a bit extra protection for your plants, and to stop them from falling over in the moving vehicle, you can use some packing materials to give them further steadiness. For example, you can use a soft cushion between them. Your plants will be in safe hands with your movers, who will make sure that everything is packed securely in the truck.
If you are using good, experienced, and right movers then you don't worry about any loss or damages as they follow your every instruction strictly.
Also Read: How To Check The Credibility Of A Packers And Movers Company?
Recheck Before The Journey :
Before the journey, you need to do Some very important Checking.
Click photos with your mobile of all the plants so that you can check if there is some damage after unloading.
Don't forget to check the '' insurance policy'' of the movers' company. This may help you to claim compensation if you fall into such a case.
Ensure proper packing and follow instructions as mentioned above. So these are the procedures to follow during packing. Packing is the most important stage of transporting your delicate plants.
So these are the procedures to follow during packing. Packing is the most important stage of transporting your delicate plants.
Also Read: How To Avoid Moving Scams?

Unload And Flourish The Plants
Keep in mind that your plants should be unpacked first after reaching your destination. don't rush during unloading as a little insouciance can damage your all labor .while lifting the pots, hold them from the bottom and unwrap the plastic slowly.
Check the soil, if needed water or not .open the plant's branches if they were bound and make them free again.
Place them in a place where they could get enough fresh air, sunlight .sometime plants need some time to recover to their previous state. Give them water, food, soil, and time as well.
You spend a lot of time growing and nurturing your plants so that they look good in your home, so don't let your hard work goes in vain with a poor moving strategy. Moving plants to a new place should be simple and tension-free, provided you follow the tips above. With an indefectible move, your plants will be ready and eager to go into your new home.
Also Read: How To Choose The Perfect Packers And Movers At Affordable Rates?