The skyscraper, metro station, IT Hub, and lavish lifestyle define a smart city. Are you the one dreaming of such a lifestyle? If your answer is a resounding yes to the question, then it's time to move to a smart city.
While the advantages of moving to a smart city have their sphere of specialty. To make your decision easy, we have a roster of reasons to choose a smart city. So, without any further ado, let's get started!
Additional Read: Best Packers And Movers in Surat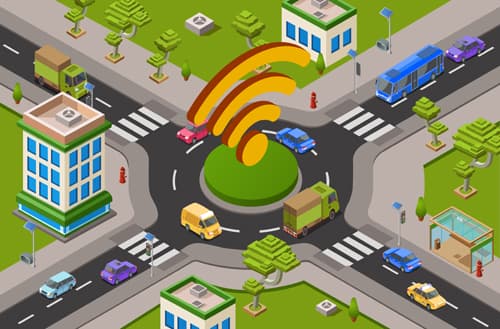 Smart City
1- Cut The Bane Of Your Life With Improved Transportation
No, doubt outside the smart city it's green till your eyes can see. However, transportation is a grinding roar out there. Fortunately, transportation in a smart city is on an inflated standard of success. Connected transportation and efficiency in traveling are way better in smart cities.
You can track local transport locations, manage traffic while changing routes with the help of smart technologies. Better transportation minimizes congestion and improves the public transport experience. Moreover, with a regular upgrade of transportation, the residents here are enriched with the best transportation experience.
2- Woo Your Senses With The Features And Infrastructure Of Smart City
The smart city offers an impeccable experience with its aura. Every nook and corner is perfectly planned. The infrastructure of the smart city is a visual splendor.
Moreover, the availability of better hospitals, schools, colleges and apartments will contribute to a better lifestyle. Needles to say, the entertainment hub is always brimming in a smart city. The shopping malls, amusement parks, private clubs, supermarkets, and fine-dine restaurants will tweak your way of living.
3- Amp Up Better Job Opportunities
Though it's perfectly fine with sticking to an inherently particular routine. However, there is nothing wrong to try hard for a better change and lifestyle. Likewise, moving to a smart city for a better job opportunity is a wise choice.
In a smart city, the business acumen of people is excellent. And the presence of top-rated companies is a good opportunity to excel in your career. This will further enable the exchange of good ideas and to move a step ahead in your career whilst making a good moolah.
4- Safety That Breaks All Negative Barriers
Safety in smart cities is the most high-rated feature. The safety measures in smart cities effortlessly complement the pizzazz lifestyle of people.
High advanced technologies such as CCTV camera reduces criminal activity. The smart city is also a safer place for women, girls, and senior citizens. With good connectivity to public help such as police station, life here is easy to face tuff situations. Moreover, LED street lights, trained security guards, well-connected GPS network can help you wave unforeseen danger.
5- Enhanced Engagement Of People
There's no surprise that people in a smart city are well aware of the social changes. Their participation and knowledge in ongoing affairs are comparatively more than small-town people.
With robust technology and digital services, people in the smart are aware of everything happening around the globe. Moreover, the intuitive websites, digital knowledge, access to government data, service portals, and networks are better in smart cities. Thus smart cities promote civic engagement more than a small town.
To sum up, a smart city is a highway to a better lifestyle and opportunity. Moving to a smart city will bowl you over with its facilities. So, why deprive yourself of relishing the best things in life? Settle in a smart city and forge a life like never before.